Video Game Review
The Legend of Zelda: Triforce Heroes
Platform: Nintendo 3DS
Released: October 22, 2015
4.6/10
Becoming a hero involves four key things: possessing a courageous spirit, leading by example, accomplishing notable feats, and, most importantly, rocking swanky fashion while defeating your enemy.
The Legend of Zelda: Triforce Heroes introduces "stylish victory" in the literal sense. Our protagonist, Link, doesn't rely on his trusty sword and shield to vanquish evil. In this adventure, he has the option of purchasing clothing to accompany his trademark tunic, hat and tights, each with its own advantage.
One costume, for instance, enables him to shoot beams from his sword, eliminating a baddy from afar. Another one illuminates his body in dark mansions or caves, making for a safe trip.
This unparalleled concept creates only momentary enjoyment. Some classic Zelda puzzle-solving and unintentional brain training exists, but beyond that, the plotline is silly, borderline ridiculous.
Set in Hytopia, a kingdom inhabited by fashion-obsessed people, its Princess Styla is cursed by "The Lady" (a witch), who forces her to wear a black jumpsuit which cannot be removed. Styla's devastated father, King Tuft, calls for three legendary, totem-pole-forming heroes to fulfill the prophecy of restoring the kingdom's couture-mania.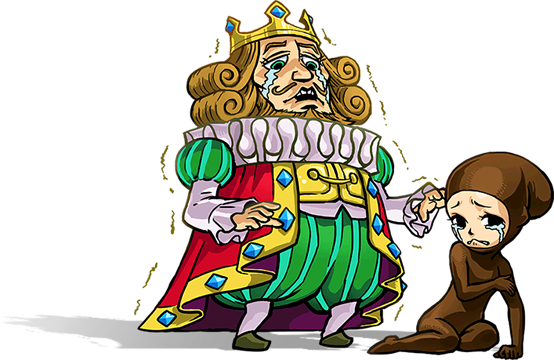 Link, along with two other swordsmen, excurse to the Drablands to conquer its eight arduous regions, in hopes of stopping the Lady and freeing Princess Styla from unroyal embarrassment.
There are dribs and drabs of slightly satisfying challenges in Triforce Heroes, blended with a dry, shallow storyline. These ingredients didn't produce a true Zelda title. While traversing through a dungeon or fighting a boss, I wanted to tell myself it was to rescue a country from vileness's clutches, but when I remembered it was to remove a princess's jumpsuit, I became unmotivated.
The main event was to stack the three heroes on top of one another, essentially "totem-poleing" to strike tall enemies, activate a switch perched atop a high ledge, etc., a technique that outlived its creativity in a matter of two levels.
The lack of character development made it impossible to feel any sense of accomplishment. The backstory of the "Triforce Heroes" wasn't discussed at great length, breaking potential relatability to or humanization of protagonists, secondary characters, or even antagonists.
It's a shame this installment turned out to be stale. I was looking forward to Triforce Heroes the moment it was announced on Nintendo Direct, anticipating an inadvertent revival of the classic Four Swords games: two adventures comprising more than one hero.
A saving grace is a single-player mode is available to those who would rather complete the game on their own; however, the gathering of the "doppels" (the name given to the two non-controlled heroes) was excruciating. Instead of the three Links travelling in formation, only one is led by the player, while the others stand lifeless. This requires the player to "totem-pole" the gang and guide them to the next objective.
Usually, the franchise contains rich, colourful scenarios spawning limitless theories and debates. At times, it's hard to tell that Triforce Heroes continues the tale of the omnipotent Triforce, Hyrulean warrior and princess, and Ganon, the leader of desert brigand race. I don't recommend this game for long-time Zelda fans, or casual gamers seeking entertainment.